This restoration began in late 2007 and continues to this day. Up until recently, the plan was to restore the 1986 Z28, which was the first car acquired. As I dug into that car, I realized the body was really too far gone to salvage (see the carnage here), especially with my limited abilities. I did a lot of cutting and welding before admitting that the cost of making the car whole again, not to mention safe, was just not worth the investment.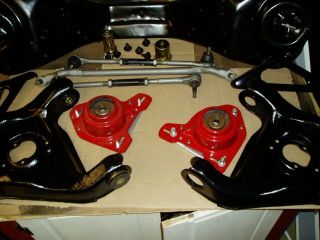 While trying to figure how to proceed with this mess, I've spent a lot of time finding and restoring parts that will be going back on the car. By restoring, I really mean cleaning and re-painting. Most of any restoration is the dirty work, the hours scrubbing grime and sanding rust. It's a PITA now, but the results will be worth it. In keeping with the low budget theme, spray bombs will be used to paint the small parts. Heavily rusted parts, like the front lower A-arms, have been sandblasted and treated with a rust encapsulator.
In 2009, I came across an ad on Craigslist for a shell from a 1988 IROC. It was advertised as rust-free with very low miles. This being New England, and me being a cynic, I had doubts about the rust-free claim. But the shell is in spectacular condition for a Northeastern vehicle. There is absolutely no rust-through and only a few spots of surface rust. Best of all, the floors are solid! At $300, it was a fraction of what it would have cost for new floors for the 86. Things are looking up!
Everything was stripped from the 86 and a lot of the parts will be used in the 88. This will really be more of a restomodification. The final product will be a collection of parts from various vehicles. The drivetrain will include the T5 transmission from the 86. The rear end is from an 87 that was parted out. There are lot of decisions to be made, and a lot of work to be done. So sit back and enjoy the ride as I document the progress.